"Let justice roll down like waters…" Amos 5
A reporter from The Arizona Republic, Steve Yozwiak, wrote, referring to Jenny's purchase and use of an electric-powered car during the seventies and eighties, that "State Representative Jenny Norton has always been a little ahead of her time."
The Phoenix Gazette reporter, Richard de Uriarte, agreed about her environmental activism, writing that "within weeks she has become chief advocate of clean-burning fuels and groundwater recharge."
As prime sponsor of the 1989 Omnibus Clean Air Act, Jenny's language regarding Arizona's mandated use of ethanol passed, was signed into law, and, despite harsh lobbying against it by the oil industry, is stated verbatim on each retail gasoline pump today.  Hand-in-hand with conservationist Bob, who had designed one of the first solar projects in Bird Springs, Arizona during the seventies, Bob and Jenny continue to lead our communities in caring for our earth, and caring for our neighborhoods as they build L.E.E.D. Platinum level certified homes, and will soon certify with Habitat for Humanity as partners two complete sustainable neighborhoods. Please see our details below.
We also partner with and have endowed the very first scholarship of Arizona State University's Global Institute of Sustainability:
ASU Student Combats Global Vulnerabilities with Sustainable Technology, August 5, 2014
Source: Arizona State University News
"Bangladesh. One of the world's most populous countries, and one of its poorest.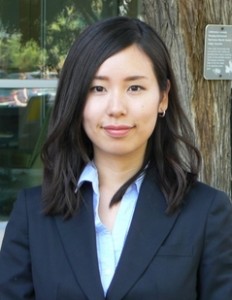 Akane Ota was living in a village far from Dhaka, the country's capital. Her assignment with Grameen Bank, a Nobel Peace Prize-winning microfinance organization, asked that she survey villagers to assess their living conditions, then create a business plan to improve them.
Read more ...
————–
ESTABLISHED in 2009 with a gift from Jenny Norton and Bob Ramsey, the Norton and Ramsey Sustainability Scholarship was the very first endowed to undergraduate students. It is awarded each fall semester to a School of Sustainability undergraduate major (sophomore level or higher) who is interested in pursuing studies about how populations facing poverty and social justice issues may be more likely to benefit from sustainability practices.
ALSO, our Foundation serves Jenny's alma mater at ASU's School of Religious Studies with The Arava Institute, of the Ben Gurion University within the Negev of Israel for advancing awareness, research and knowledge of our cause: working with ASU's Professor Joel Gereboff, and Arava Institute's Director David Lehrer, Jenny and Bob scholarship Arizona State University students from our Religious Studies Department to send them to study at the premier environmental research facility of our planet, the Arava Institute of Ben Gurion University, located within the Negev of Israel.
AND THROUGH,  ASU's Institute for Humanities Research (where Jenny initiated a Women and Gender Studies Research Cluster ), Jenny and Bob are also funding educational work through the Institute for Humanities Research, building on their work being done at the Global Institute of Sustainability, (GIOS), to enable face-to-face dialogue among members of groups which include scientists, social scientists, and humanists.
—————
AS A CLINTON GLOBAL INITIATIVE AMERICA COMMITMENT TO ACTION, and in partnership with New Course, with the City of Tempe, with the country of Guatemala, with Habitat for Humanity, and with Arizona State University, the Ramsey Social Justice Foundation is scaling up our mission of building more than fifty sustainable affordable homes to building two sustainable and happy neighborhoods.  We welcome you to read more:


The Clinton Global Initiative (CGI) convenes leaders to turn ideas into action. CGI Commitments to Action represent bold new ways that CGI members address global challenges—implemented through new methods of partnership and designed to maximize impact. Commitments can be small or large, global or local. No matter the size or scope, commitments help CGI members translate practical goals into meaningful and measurable results.
SUSTAINABLE NEIGHBORHOODS FOR WELLBEING AND HAPPINESS
Read more ...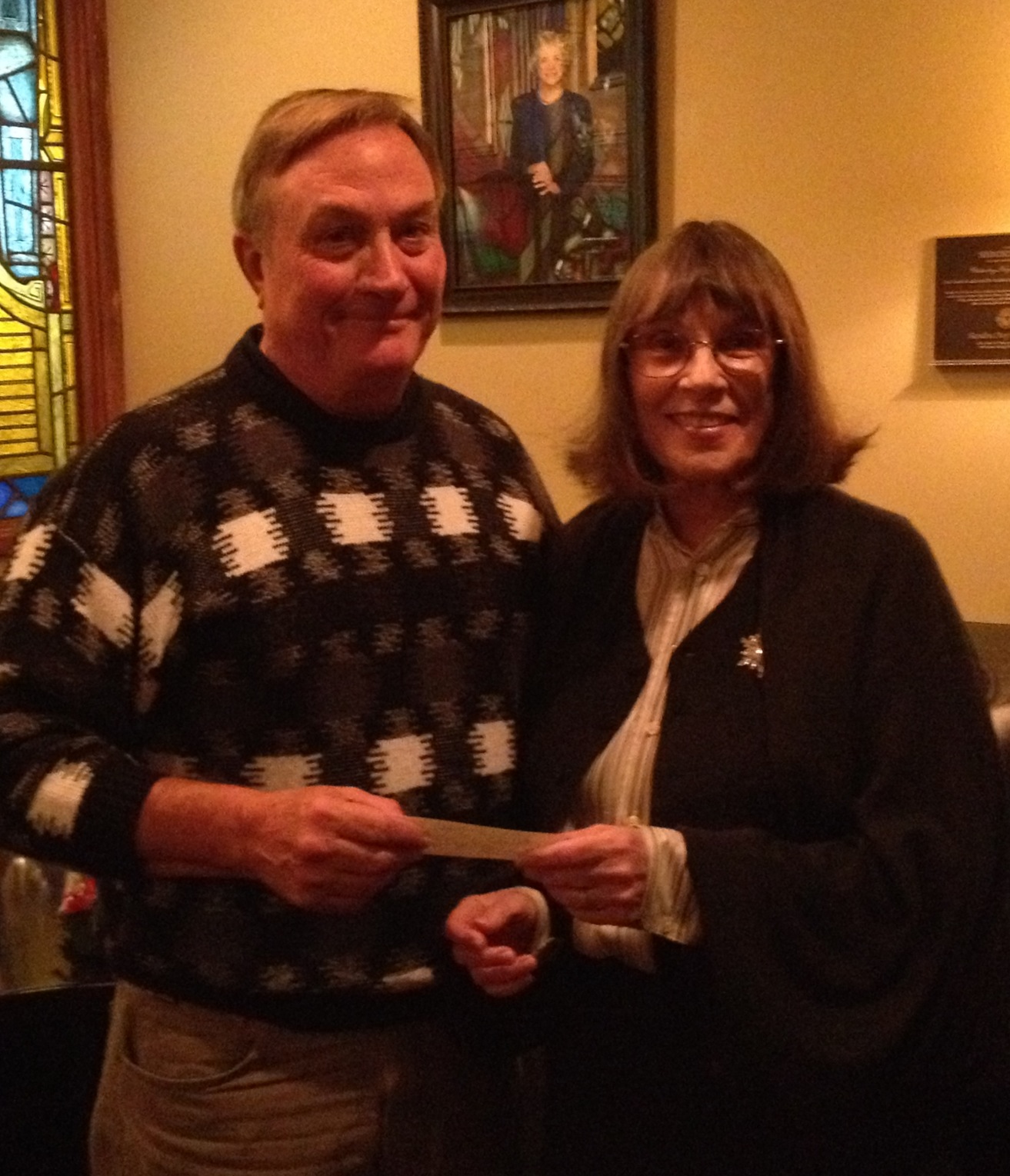 Roger Schweirjohn, Former CEO of Habitat for Humanity Central Arizona with RSJF's Jenny.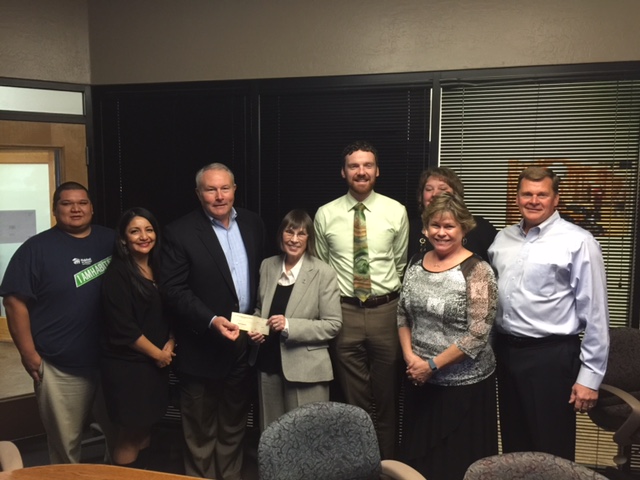 A very successful Sustainable Neighborhoods for Well-Being and Happiness January 2016 Launch with Habitat for Humanity, ASU, and The Ramsey Foundation.  Gabriel Jaramillo, Maribel Saucedo and Jason Barlow of Habitat for Humanity;  Jenny Norton and Scott Cloutier of The Ramsey Social Justice Foundation and Arizona State University; Lisa Weide, Liz Pabst-Wanless and Roger Neuhaus of Habitat for Humanity.
Tempe's final LEED Platinum Certified Habitat Homes to be dedicated this Saturday (read more)
During Earth Day Month, 2017, in collaboration with the City of Tempe, Arizona State University, Habitat for Humanity, The Ramsey Social Justice Foundation, and the residents of Victory Acres, 42 carbon offsetting trees were planted by volunteers from each of the above listed, in our Sustainable Neighborhoods beautiful Esquer Park: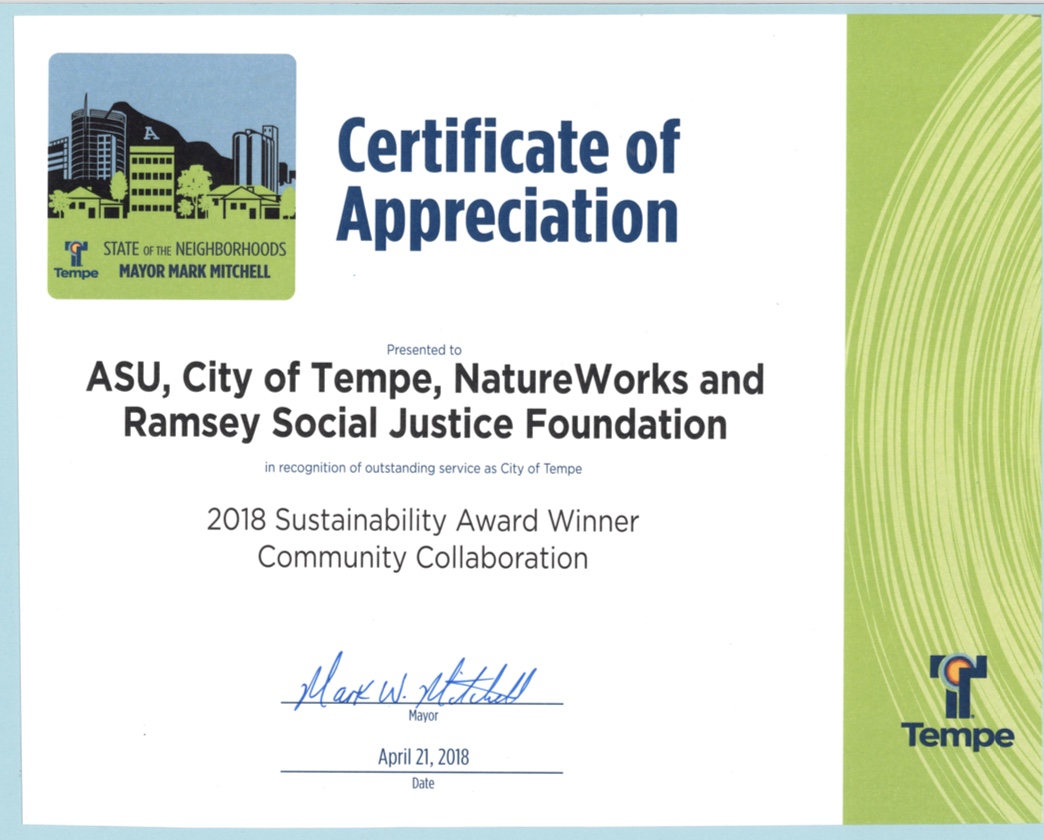 The City of Tempe's Vice Mayors, Honorable Robin Arredondo-Savage and Honorable Lauren Kuby, were early and continuing supporters of Sustainability in our Neighborhoods, partnering with the Ramsey Social Justice Foundation and Arizona State University in Victory Acres: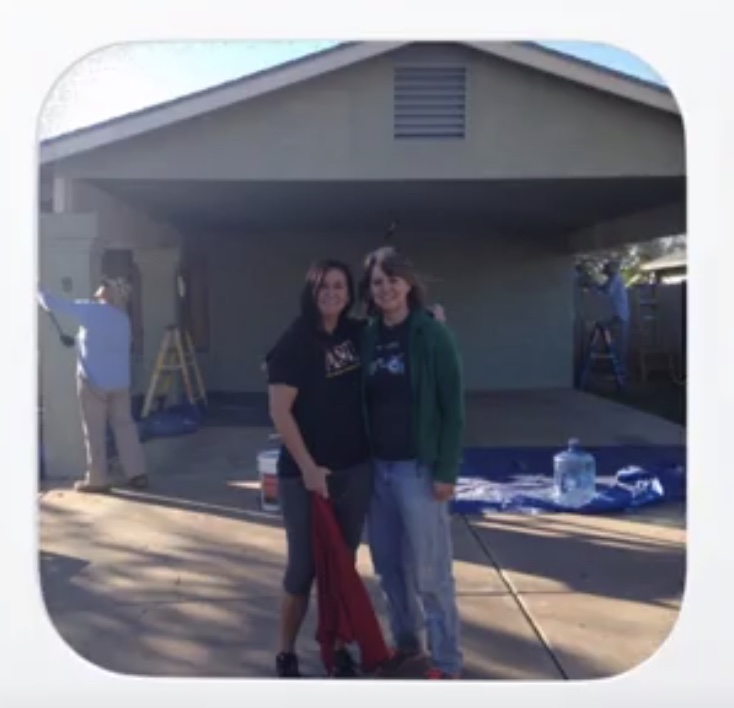 "The City of Tempe is excited to participate in the initiative that will help transform Victory Acres into a more sustainable community," Tempe Mayor Mark Mitchell said regarding Tempe's Sustainable Neighborhoods partnership  with The Ramsey Social Justice Foundation and Arizona State University: