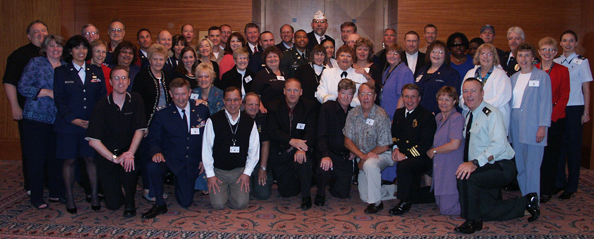 Jenny Norton with her Chaplaincy colleagues.
Chaplains bring spiritual hope beyond the walls of the church, mosque and synagogue into specialized settings by deploying skilled woman and men who are called of God to serve our military, our hospitals, our civic organizations, prisons, law enforcement, fire and other fields as chaplains. We encourage you to learn more about how to become a chaplain by contacting Jenny.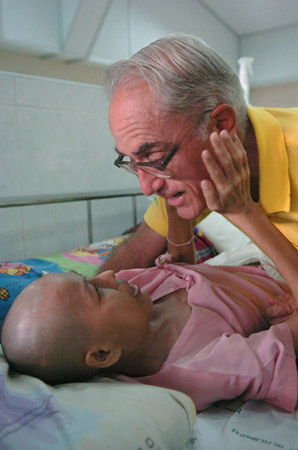 Jenny (Rev. Jenny Norton) has also been denominationally endorsed as a prison chaplain and hospital chaplain. After serving for 18 years, as Auxiliary Chaplain for the Arizona State Department of Corrections, the keystone of her service now is to a small community hospital for all our neighbors, Tempe St. Luke's Hospital (www.tempestlukeshospital.com).
Well, God is in His heaven
And we all want what's his*
We have a indigent pastoral care fund to provide respite care for homeless patients discharged to the streets, and a voucher program supervised by Case Worker Dan O'Halloran to provide required prescribed medications for indigent and/or homeless patients who need medicine upon discharge, and free mammograms for the underinsured, uninsured and undocumented.
We encourage you to visit the AIDSWalk website as well as the ASU-Gammage's Journey Home website, and to cosponsor such noble causes with Jenny and Bob.
Here are Jenny's retirement photos during the Regional Chaplains' Conference, November 2014, saluting her twenty- five years in ordained Ministry.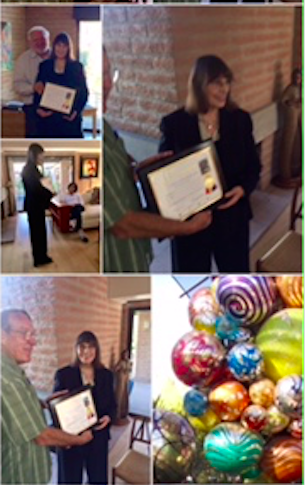 Jenny Norton retires after twenty- five years in chaplaincy.
* "Blind Willie McTell" Written by Bob Dylan Copyright © 1983 by Special Rider Music. All rights reserved. International copyright secured. Reprinted by permission.